At the fifth session of the 13th National Assembly this morning, June 12, 90 percent of the members of NA passed an Anti-Terrorism Law that will act against all terrorism related activities in future.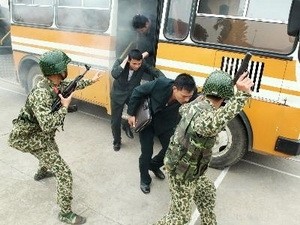 An anti-terrorism drill in Vienam (Source: VNA)
The Anti-Terrorism Law calls for all authorized organs to coordinate to apply adequate and appropriate measures to prevent and cope with terrorism, and mobilize all citizens to cooperate and fight against terrorism.
National and Provincial Steering Committees on Anti-Terrorism will be set up by the Government and by Provincial People's Committees. The Ministry of Public Security will be in charge of the National Steering Committee.
Anti-terrorism forces will comprise of organs and units under the Ministry of Public Security and the Ministry of National Defense.
The command of anti-terrorism operations will be decided by authorized organs. Some delegates asked for clarification on authorized organs.
Nguyen Kim Khoa, chairman of the National Assembly's Defence and Security Committee, said that when acts of terrorism occur, the Government will take a decision based on the act of terrorism to appoint a suitable commander and anti-terrorism unit.
The Government will regulate necessary conditions and procedures to apply appropriate anti-terrorism measures.
The new Anti-Terrorism Law has a clause against financing activities of terrorism. Accordingly, the State Bank, financial institutions, organizations and individuals must timely inform anti-terrorism forces when they uncover any signs of financing of terrorism activities.
Anti-terrorism forces will be responsible and quickly assess such information and report to the Anti-Terrorism Steering Committees.
They will be permitted to immediately apply emergency measures if they know exactly that act of terrorism is being financed.