The Vietnamese National Assembly on Tuesday ratified the country's entry into the World Trade Organization, which admitted Viet Nam as its 150th member early this month.
The National Assembly approved the country's WTO membership in the afternoon with 444 votes in favor, or 90.24 percent. Membership will be formalized 30 days after Viet Nam informs the global trade club that its legislature has approved the accession.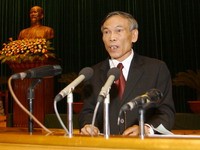 Trade Minister Truong Dinh Tuyen delivers the report.
Before the vote, Trade Minister Truong Dinh Tuyen delivered a Government report on Ha Noi's almost 12-year-long negotiation drive to join the WTO.
In the report, he warned that some Vietnamese enterprises would face stiffer global competition, even bankruptcy. He said sectors under heavier pressure were securities, finance, banking, logistics, marine transport, and agriculture. However, the garment and textile industry will benefit because of non-quota systems.
Addressing after the vote, National Assembly Chairman Nguyen Phu Trong said the legislature's approval of WTO membership was a very important event. He called on the legislators, government officials and all Vietnamese to take advantage of the WTO admission and overcome challenges.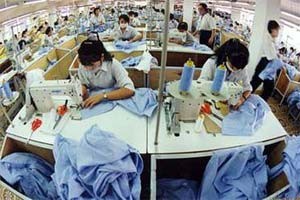 Workers sew jackets at a garment factory in Viet Nam.
Under the new rules from the global rules-based trading system, Viet Nam must scrap a range of tariffs, subsidies and other barriers that protect local industries. In return, the country, a major exporter of textiles, footwear, rice, seafood and coffee, will face fewer hurdles in selling its goods abroad and recourse through the WTO in case of trade disputes.
Viet Nam, which this month successfully hosted an APEC Economic Leaders Meeting, is seeking to integrate its booming economy into the global rules-based trading system.
International investors have been more interested in the country for its large, young and highly literate work force, its low wages and the social stability. The enthusiasm has been fed by recent news that the world's largest chipmaker Intel is building a one-billion-dollar plant in Ho Chi Minh City, the southern commercial hub.
Related article
Gov't Prepares for post-WTO Action Plan