The National Assembly at its closing session in Ha Noi Tuesday approved a resolution that lowers this year's economic growth target to 7% from 8.5-9% set late last year, giving ongoing economic woes.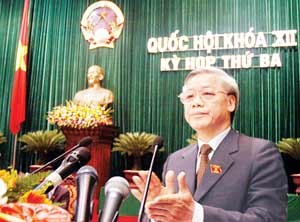 National Assembly Chairman Nguyen Phu Trong delivers a speech to wrap up an NA sitting Tuesday (Photo: SGGP)
NA Chairman Nguyen Phu Trong said the legislative body has adjusted some overall targets in the resolution on socio-economic issues this year, with the fight against inflation identified as the number one point.
He said lowering GDP growth to 7% and curbing the consumer price index in the rest of the year would be two key targets besides ensuring macro-economic stability and assuring social security and sustainable growth, the Vietnam News Agency reported.
The NA urged the Government to focus on implementing key tasks, including reasonably adjusting and implementing comprehensive measures to curb inflation and reduce price rise, and check projects and investment activities of economic groups.
The Government was also asked to make appropriate monetary policy to prevent market fluctuations, create favorable conditions to boost exports while reducing imports, and make policies to ensure the living conditions for poor, ethnic communities and those in disadvantaged regions and regions stricken by natural disasters and epidemics.
The legislative body also adopted a resolution on speeding up the implementation of policies encouraging participation of the whole society in improving health care for citizens, as well as amendments and supplements to a number of articles of the Publishing Law and the Law on Vietnam's People Army Officers.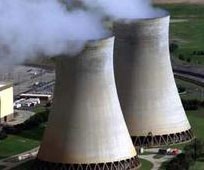 Nuclear electricity is not available in Viet Nam, and the first nuclear power plant is set for completion by 2020.
On the same day, the NA passed the Law on Atomic Energy, which encourages research and investment in atomic energy for peaceful purposes. The law says the State encourages and creates favorable conditions for domestic and foreign organizations and individuals to research and invest in nuclear energy to serve the country's socio-economic development.
To implement a strategy on applying atomic energy for peaceful purposes, the government has asked the Electricity of Vietnam Group to map out projects to build two atomic power plants.
The first plant, with a capacity of 4,000 MW, is projected to be built in the central province of Ninh Thuan in 2015 and is scheduled for completion by 2020.
Also Tuesday, the legislative body passed five other laws: the Law on Value-Added Tax (revised), the Law on Corporate Income Tax (revised), the Law on Oil and Gas, the Law on Operations of the Vietnam Red Cross, and the Law amending and supplementing some articles to the Law on Drug Prevention and Control.
All the newly-passed laws will take effect as of January 1, 2008.