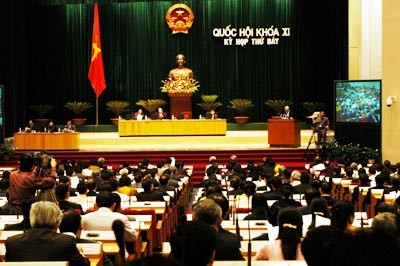 A National Assembly sitting in 2006
The National Assembly (NA) will approve 8 bills in 2007, according to the NA Standing Committee.
Most notably, a bill on Personal Income Tax, which has attracted a great deal of attention from the public recently, will be endorsed.
There will, however, be a nation-wide opinion poll before it is passed into law, which could lead to the amendment of some of its articles, the committee said.
Supplements and Amendments will also be made to other bills including the NA Organization Law and the bill on Legal Assistance.
At the first NA sitting of 2007, legislators will mull over proposals to strengthen high-ranking staff of the State, the government and the NA.
On Thursday the Committee also convened a meeting to discuss plans for drafting laws and ordinances in 2007.