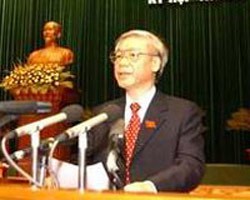 NA Chairman Nguyen Phu Trong speaks at the meeting.
Yesterday, National Assembly Chairman Nguyen Phu Trong stressed the need to develop a stronger democratic legal system that has the ability to adapt quickly and effectively, thus allowing new laws to be effective as soon as they are adopted.
Speaking at the NA Standing Committee's Conference held yesterday in Ha Noi, aimed to develop a comprehensive new system for founding and implementing new laws, the Chairman said new laws would be drafted in such a way as to make them more easily understandable for the people and would promptly issue written guides outlining how to interpret and implement existing laws.
From 2007 to 2012 the National Assembly will focus on revising the 1992 Constitution and refine the entire legal system in order to adapt to the new requirements for national development, Mr. Trong said.
Talking with Sai Gon Giai Phong reporter, the NA Chairman informed that the adjustment will take place as part of the government's restructuring of operations.
Also at the conference, Minister of Justice Uong Chu Luu introduced a draft plan outlining the completion of the country's legal structure by 2010, as is the Party Political Bureau's resolution.
As shown in the draft plan, legal institutions will focus on creating a feasible legal system that would be more comprehensive and clear, laying a good foundation for Viet Nam's international integration. It also outlined future plans for the decade after the 2010 deadline.