National Assembly deputies paid much attention to the Government's measures to curb inflation and ensure social welfare at the fourth day of the 12th National Assembly session in Ha Noi.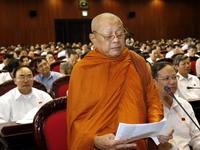 A National Assembly deputy raises his opinions at the NA session on May 9
Deputy Huynh Ngoc Dang, from Binh Duong province wanted to know whether there would be another "fever" after the "rice fever" in late April, when rice prices have climbed to record high. "It's a very difficult question, but the Government has to find an answer", he said.

Deputy Nguyen Huu Chi, from Tien Giang province said relevant authorities have loosened their control over the market, thus leading to the price hikes.
Deputy Dang Nhu Loi, from the southern Ca Mau province said the Government should include the "securities market" among the major contributors to high inflation. Rampant investments by state-owned enterprises also contributed to inflation, he added.

Deputy Le Nhu Tien, from central Quang Tri province asked the Government to focus on the economic forecast, as the Government reports outlined many weaknesses but failed to find out who or which ministries or agencies were responsible for them.

Most National Assembly deputies said the rise in the Consumer Price Index and epidemics among people and livestock have impacted adversely on people's living conditions.

The representatives asked the Government to take drastic measures to hasten the implementation of its eight groups of solutions to beat inflation and maintain sustainable economic growth.

The legislators also called on the Government to provide reliable forecasts on the domestic and global economies in addition to macro-development strategies for each ministry, sector and locality to use in the fight against inflation.

Later in the day, the legislators reviewed the outcomes of the implementation of the 2007 socio-economic goals and State budget, and the rate of implementation of those tasks in 2008.

In related news, the National Assembly Economic Committee has proposed that the licensing of new economic groups is delayed until legislators approve a complete legal system.