The Minister of Transport Dinh La Thăng yesterday requested the National Assembly's Law Committee to impose the highest fine of US$10,000 to those who seriously violate the traffic law, aiming at preventing the breaking of the laws and cutting down traffic accidents.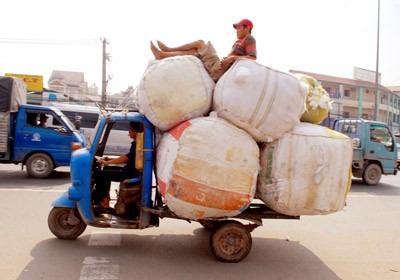 A dangerous overloaded tattered vehicle blatantly runs on streets
Traffic accidents kill more people than any disease does
The request was given by the ministry in the committee's hearing session on ways to cope with traffic law violations that have been increasing in recent years.
The ministry also asked the law makers to complete the law on resolving administrative violations, which rules titles having the right to impose fines on offenders.
In a report on the traffic violation status, the ministry said that the increase in the traffic violations status has been being the main reason of road accidents.
Traffic Police fined 8.3 million cases of breaking the traffic law, ordered law violators to pay fines worth VND 2.383 billion in 2011.
Law Committee members suggested the National Assembly to impose even confiscation of vehicles of those who break the traffic law.
Some of them also said that the nation needed to ban determinately all tattered vehicles and overloaded vehicles and upgrade highways.
According the a report by the Traffic Police traffic accidents kill 34,000 people every year in Vietnam, much more than any disease does and set the highest record in the world.
Road maintenance fee controversial
Relating to a road maintenance fee, Ms. Minh said that the fee had emerged as one of the more popular forms of financing road sector maintenance in the world and was ruled by the National Assembly in the Road Traffic Law.
In the economic slowdown situation, however, the NA should consider when and how to impose the fee, she added.
Road maintenance fee was submitted the Government by the Ministry of Transport two months ago and has faced critics from the public.
In the suggestion on the fee, the ministry said that the fee was one of the ways to require car owners who enjoy more convenience than those who drive motorbikes to contribute much more to the road traffic system.
Replying to the law makers' question relating to the fines, Deputy Minister Nguyen Thi Minh said that 100 percent of the fines was used to invest back in traffic constructions.