Following the Prime Minister's guideline, the Ministry of Science and Technology has established a national council consisting of nearly 100 Vietnamese scientists to figure out the reason behind mass fish deaths phenomenon in central provinces since early April.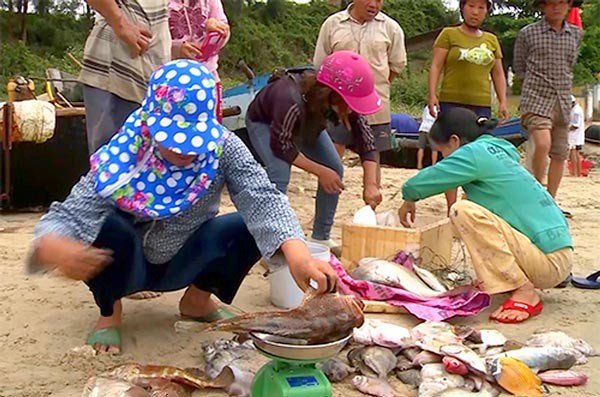 Local authority will issue harsh penalties on those who buy and sell dead fish (Photo: SGGP)
Professor Chau Van Minh, president of the Vietnam Academy of Science and Technology, was appointed head of the newly established national council of science and technology. On behalf of the council, Professor Chau Van Minh met with international experts to work on the matter.
According to the Ministry, so far, 100 scientists from over 30 research institutes and universities in Vietnam who are experts in aquaculture, environmental science, geology, marine geophysics, chemistry, mechanics, aerospace technology, petrochemical, and others have collected dead bodies of wild and farm-raised fish, seawater samples, sediment, and plankton, as well as statistics on earthquakes, water torrent and temperature, chlorophyll and oil content in the sea, to evaluate all potential causes.
The scientists have ruled out the possibility that the fish died of epidemics, oil spill, temperature shock, or other affects brought about by earth tremors, based on preliminary analysis but they are currently focusing on assessing two potential aspects responsible for the fish deaths, which are biological and chemical causes.
On fish death related news, in a government's session on May 4, the Ministry of Planning and Investment said that mass fish death in the  central lately would increase prices of other food items,. The Ministry suggested five measures to stabilize the problem.
Firstly, local governments must buy and destroy all dead fish as well as strictly fine those who buy and sell dead fish for food. Secondly, scientists should find out the cause of the matter as soon as possible.
Thirdly, the government should issue policies to support fishermen and residents who are badly affected by the incident and impose harsh penalties on those who polluted the sea environment.  The local administrators should increase information and measures to improve tourism.
Fourthly, local authorities should submit documents of support  to aquatic breeders and fishermen.

Finally, local governments should warn people not to re-rear aquatic animal until scientists find out the cause.