A national electricity network will be installed on Cu lao Cham (Cham Island) of Hoi An City in the central province of Quang Nam by the end of 2014, said Nguyen Su, Secretary of the Party Committee of Hoi An City.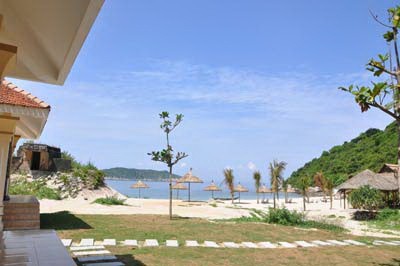 National electricity network will be installed on Cu lao Cham in 2014 and contribute to the island's development
The project costing VND350 billion is the number one priority for the island's development in coming time.
Cu Lao Cham is currently home to 3,000 residents. The island received more than one hundred local and international visitors in 2012. Over 90,000 domestic and foreign tourists traveled to the islands in the first six months of this year, presenting a year-on-year increase of 102 percent.
Cu Lao Cham received recognition as a world biosphere reserve by UNESCO in 2009, and is regarded as a biological tourist haven, attracting large numbers of visitors.
The archipelago, with eight big and small islands covers an area of 15 square kilometers.
According to scientists, Cu Lao Cham is home to over 947 species, of which 170 are sea organisms, 50 are fish, and many others classified as endangered by Vietnam's Red Book.
The area is also home to 135 species of corals, including six that are new to Vietnamese seas.
Travelers are very interested in visiting Cu Lao Cham because of its wilderness, seafood and hospitality. Visitors can also explore hidden beauty underwater with thousands of splendid corals in scuba diving tours.
The local authorities are very careful about developing the island in such a way that does not affect the nature.