The Ministry of Transport is working on a project to upgrade the 1,700km National Highway 1A by 2016, along which 21 new toll stations will be built.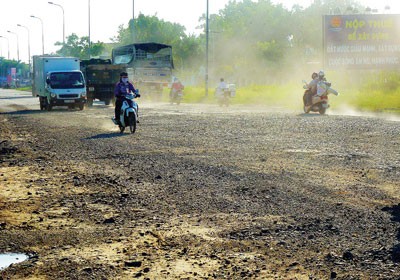 National Highway 1A will be upgraded and broadened (Photo: SGGP)
At a press conference on April 2, Nguyen Hong Truong, Deputy Minister of Transport said that Highway 1A is now badly downgraded from heavy vehicular traffic, with about 20,000-30,000 vehicles plying each day.
The Highway has already been upgraded at some sections that pass through urban areas.
The Highway is in need of broadening into four lanes at a total cost of VND120 trillion (US$5.74 billion), which is far too huge for the State Budget. Meanwhile, the issue of Government bonds is meeting with difficulties.
If the project waits for capital from the State Budget and Government bonds, it will be complete much after 2020.
As a result, the Government and the National Assembly have tasked the Ministry of Transport to mobilize investors to fund the project under BOT system (Build-Operate-Transfer).
According to the Ministry, Highway 1A will have 1,000km under the BOT system and 700km invested from State budget. A total 21 toll stations will be built to make up for investment spent by BOT investors.
Once the new stations are fully operational, the ministry will map out a route to stop the current stations, so that the toll stations are all located at 70km intervals.
A representative of the Ministry said that the new highway will help transport businesses save both time and fuel, which should justify the cost of the toll fee.