Ho Chi Minh City hosted a national conference on Monday to discuss how to improve operations of the People's Councils and People's Committees of all the 64 cities and provinces in Viet Nam.
"Government officials are civil servants who serve people. Proposals by People's Councils aim to serve people better, not to hinder them," National Assembly chairman Nguyen Phu Trong told the conference, attended by Standing Deputy Prime Minister Nguyen Sinh Hung and chairpersons of all the People's Councils and People's Committees.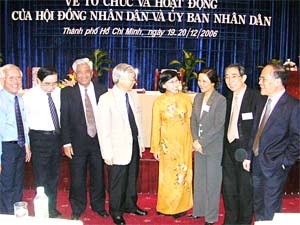 Delegates pose for photos at the conference (Photo: SGGP)
A discussed problem was that many local-level councilors did not work full time in their councils, therefore their operations were not effective.
Ho Chi Minh City People's Committee chairman Le Hoang Quan said the local-level government networks did not function well and government units sometimes bothered each other.
He suggested an abolition of the People's Councils at two local levels.
The conference also spent much time on why many councilors did not raise many questions about responsibility of members of the People's Committees. Some figures mentioned were just 24 questions by Tuyen Quang Province's People's Council in almost the past three years, 23 questions by Gia Lai Province's, 21 by Lao Cai Province's and only 14 by Ha Nam Province's.
Regarding Ho Chi Minh City, Mr. Quan proposed more authority for the southern hub, which produces one-fifth of the country's gross domestic product, almost one-third of industrial production and 40% of export revenue.
Mr. Quan asked for special authority to mobilize capital for the city's plans to develop Thu Thiem Area on the other side of the Saigon River, build Thu Thiem Bridge, expand Nguyen Van Troi and Nam Ky Khoi Nghia streets, give a face-lift to canals, and some other major projects.
He explained that with the current regulations, they city could not collect enough capital to carry out the projects.
Another problem at the conference was the lack of guidelines for the laws on land, investment and construction, making it unable to carry out the laws.