The experiences of the United Kingdom and ASEAN nations in building and managing a national qualification framework (NQF) were shared at a conference in Hanoi on August 15.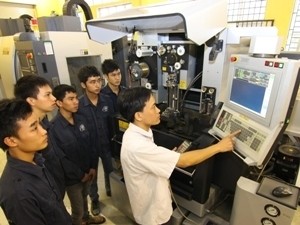 Illustrative image. Photo: VNA
The event, themed "Building a national qualification framework - assist Vietnam 's integration into the ASEAN and international education and labour force", was co-organised by the British Council, the Ministry of Education and Training and the Ministry of Labour, Invalids and Social Affairs.
The conference attracted the participation of Vietnamese and foreign policymakers, managers and representatives from businesses, universities and colleges, as well as professional organisations.
It aims to support Vietnam in building and standardising its qualification and diploma system in tertiary and vocational education.
Many experts said Vietnamese qualifications and diplomas have yet to be clearly defined, resulting in little confidence from employers.
The building of a NQF will promote education and employment cooperation among countries based on the mutual recognition of each other's qualifications and diplomas, they added.
Experts also proposed that in the future, Vietnam should set up mechanisms to ensure quality is parallel with correlative qualifications and diplomas, strengthening trust in the value of degrees in the process of building a NQF in Vietnam .
Addressing the event, Deputy Minister of Education and Training Bui Van Ga said international integration in education is a chance for Vietnam to mobilise resources and experience from outside to serve the development of highly-qualified human resources in the country.
Over the past years, Vietnam 's education and training sector has recorded a number of achievements. However, the sector is still facing limitations in educational development and management mechanisms, he said.
He further affirmed that the building of a NQF and suitable management mechanisms will help people obtain life-long learning and have their ability recognised.