The 11th National Women's Congress will convene in Hanoi from March 12-14, with over 1,000 delegates participating in the event from across the country.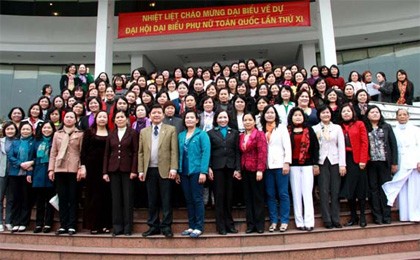 Photo of the Vietnam Women's Union Executive Committee members of tenth tenure (Photo CPV website)
The three-day congress themed "Unity, Creativity, Integration and Development" organised by the Vietnam Women's Union, will attempt to enhance the role of women in society and help create conditions to make the most of their inherent potential and contribute to national industrialisation and modernisation.
Ms Nguyen Thi Thanh Hoa, Chairwoman of Vietnam Women's Union, told the media that the congress will review women's movements and activities during its last 2007-2012 term as well as its achievements and directions for the next five-year period.
During the past five years, the Women's Union has constantly worked towards renewing its methods and activities to take care of and defend the legitimate rights of women nation wide, said Ms Hoa.
The congress will also elect the Vietnam Women's Union Executive Committee of 27 members for the period 012-2017, and adopt amendments and supplement new regulations, besides honouring individuals and the various union branches for their achievements during the last term.