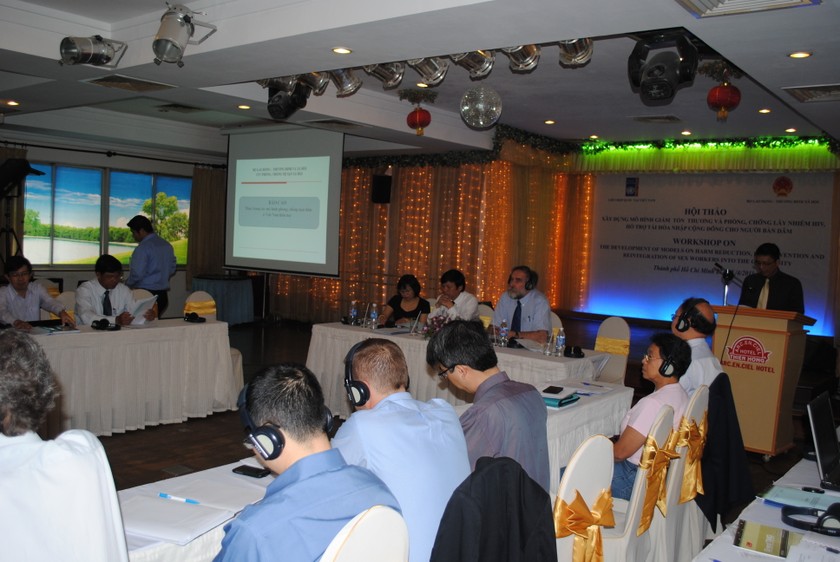 Particpants listens to speeches at the seminar on (Photo: T. Kien)

The National Anti-Social Evils Department estimates that by 2012, at least 9.3 percent of Vietnamese female sex workers will contract HIV.
A representative of the Department stated this at a National workshop on reducing harm to sex workers, held on April 27-28 in Ho Chi Minh City.
The HIV epidemic in Viet Nam is concentrated amongst people who are sex workers, clients of sex workers and men who have sex with other men. People who inject drugs are also susceptible to catching the disease.
According to the latest data, HIV is rampant amongst sex workers in many cities. Twenty percent of street sex workers in Hanoi, twenty three percent in the northern province of Hai Phong and sixteen percent in Ho Chi Minh City have contracted HIV, according to Dr. Duong Van Dat, Reproductive Health Manager of the United Nation's Population Fund.
Moreover, the number of HIV-positive female sex workers stands third only after drug users and gay groups. The northern and southeastern regions have the largest number of HIV-infected female sex workers.
Only a small number of sex workers have regular access to essential services for HIV prevention, such as condoms and treatment of sexually transmitted diseases. Besides HIV and sexually transmitted diseases, sex workers are exposed to other serious harm, like drug use, violence, discrimination, debt and exploitation.
Speaking at the workshop, Nguyen Trong Dam, Vice Minister of Labor, Invalids and Social Affairs (MOLISA) stressed the necessity to include the fight against prostitution in the social welfare policy and adopt practical, effective methods to minimize its impact.
Julia Cabassi, Regional HIV Adviser at UNFPA, informed participants of the ways to ensure success in HIV prevention, treatment and cure. While representatives of HCMC Department of Social Evils Prevention said, the city has strengthened prevention methods because prevention is better than fight to cure.
UNFPA representatives said it welcomed MOLISA's initiative to include the prevention and reduction of sex workers in the next five-year Plan of Action on Sex Work Prevention for 2011-2015.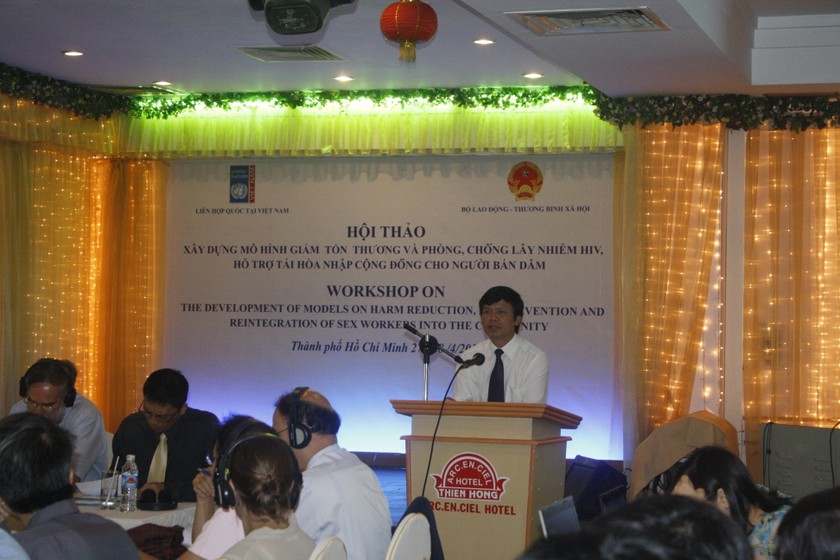 Nguyen Trong Dam, Vice Minister of Labor, Invalids and Social Affairs, speaks at the seminar (Photo: T.Kien)
A former sex worker who is working for the HCMC Women's Union delivered a presentation at the seminar. She said that sex workers must be the driving force in the development, implementation and enforcement of harm reduction programs. The woman spoke of her experiences to encourage her colleagues to use condoms.
She said that in 2010, she and her colleagues in the city Women's Union and Department of Social Evils Prevention helped two women to stop sex working but earn their living with other jobs.
Nguyen Thi Ngoc Hanh, Vice-president of the city Women's Union, petitioned the MOLISA that the government should develop policies to penalize those who pay to have sex with a prostitute and support sex workers to integrate into the community.
Le Thi Ha, Deputy Chief of the Department of Social Evils Prevention under MOLISA, Dr. Nguyen Minh Tam, Vietnam Administration of HIV/AIDS Control (VAAC) and Le Trong Sang, deputy director of HCMC Department of Labor, Invalids and Social Affairs along with World Bank representatives and relevant agencies attended the two-day workshop.