Party General Secretary Nguyen Phu Trong held a reception on Saturday for a delegation from the Overseas Vietnamese (OV) community, who returned home to attend the "Xuan Que Huong" (Homeland Spring) programme.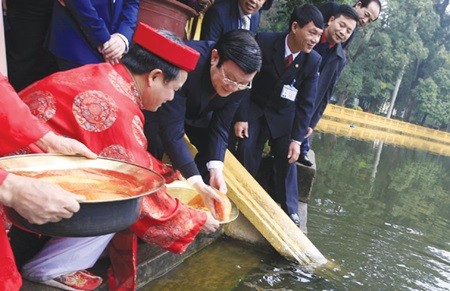 President Truong Tan Sang and delegates of Overseas Vietnamese communities release Tet carps at a ceremony yesterday at the Ho Chi Minh Mausoleum. — VNA/VNS Photo Thong Nha
On behalf of the Party and Government, General Secretary Trong extended his warmest Tet (Lunar New Year) greetings to the OV community, while applauding their contributions to national development, including their recommendations for the 12th National Party Congress.
"The Party and Government consider the OV community an integral part of the nation," he said, hoping that they would enhance solidarity, treasure traditional cultural identity and serve as a bridge to connect Viet Nam and their host countries.
Informing the overseas Vietnamese about the results of the 12th National Party Congress, the General Secretary said the Party and Government would work to comprehensively foster reforms, industrialisation and the modernisation process and international integration; protect national interests and strengthen national solidarity.
The OV community expressed their delight at the country's development and delivered their congratulations on the success of the Party Congress.
They pledged to make efforts to build a solid community and hoped that the Party and Government would continue their support while creating favourable conditions for them to invest in their homeland and contribute to the country's development.
Presidential greetings
President Truong Tan Sang wished OV communities around the world a year full of happiness, health and success at the event Xuan Que Huong in Ha Noi.
He highlighted Viet Nam's accomplishments in socio-economic development, global integration and sovereignty safeguarding efforts despite numerous difficulties and challenges during 2015.
President Sang also praised OV communities and their contribution in said accomplishments. He expressed his wishes that Vietnamese living aboard would continue to help with Viet Nam's nation building and protect their homeland's territorial integrity.
He stressed the importance for Vietnamese, whether they live inside or outside of the country, to stand united in order to overcome obstacles and challenges in building the homeland and elevate the status of Viet Nam in the international community.
Earlier yesterday, OV delegates attended various Tet activities yesterday including an incense burning ceremony at the Kinh Thien Palace in the Thang Long Citadel and a carps releasing ceremony in the President Ho Chi Minh Relic site.
They also joined a gala, which was held to celebrate the nation's traditional holidays at the Ha Noi Opera House.
The Xuan Que Huong programme, held at the end of the year in honour of 4.5 million Vietnamese living aboard, has become an important cultural event among Vietnamese overseas communities.
National solidarity
Nearly 70 representatives of overseas Vietnamese's associations and unions from 25 countries and territories gathered in Ha Noi on Saturday to discuss ways to maintain and uphold the activities of these communities.
The gathering, also attended by leading officials of concerned agencies and Viet Nam's ambassadors to several countries, was part of the annual Xuan Que Huong event welcoming overseas Vietnamese returning home for the Lunar New Year holiday.
Vu Hong Nam, Deputy Foreign Minister and head of the State Committee for Overseas Vietnamese Affairs, said that associations and unions had been established in most of the countries and territories where Vietnamese people are living abroad.
This helped foster national solidarity, improve patriotism and the image of Vietnamese people abroad, he said.
Nguyen Phuong Nga, Viet Nam's Permanent Representative to the United Nations said that Vietnamese associations and unions abroad played a productive part in the country's development.
According to Chairman of the Vietnamese Business Association in France Nguyen Hai Nam, around 400,000 Vietnamese are presently active in 100 different associations and unions that have garnered enthusiastic support from young people.
In order to improve the role of Vietnamese associations in Cambodia, member of the executive board of the General Association of Vietnamese Cambodian People Nguyen Huy Mao called for opening more Vietnamese language classes to preserve cultural identity and better connect Vietnamese nationals together.
Ta Nguyen Ngoc from the State Committee for Overseas Vietnamese Affairs said that in the global context of potential unrest, leaders of associations and unions must enhance their crisis-solving skills and enrich themselves with knowledge about non-governmental organisations as well as authority systems of the host countries to support Vietnamese people overseas.
Great contribution
Overseas Vietnamese should be entrusted with major government programmes to attract more of them back to contribute to the country's development, their representatives told an annual gathering in HCM City.
Speaking at an informal meeting held every year before Tet with city leaders, they called on the country to use their expertise more.
Vietnamese-Canadian Nguyen Quoc Binh, who was the first overseas Vietnamese to be appointed head of a State agency, was among those who exhorted this.
Deputy director of the HCM City Bitechnology Centre, he is one of the overseas Vietnamese to make a great contribution to the city's development.
When the centre was mooted by the city in 2003, following discussions with city authorities he decided to sell his house and return to Viet Nam to develop it.
It is now the country's biggest bio-technology institute. Starting with two employees, it now has 170.
Binh said several products the centre had made had brought much benefit to farmers, increasing their annual profits by US$100 million.
He urged the city administration to use the knowledge possessed by overseas Vietnamese for the city's development.
"I have decided to contribute to the city's development for the rest of my life."
Nguyen Thanh Phong, a member of the Central Party Committee and chairman of the city People's Committee, told the 1,000 overseas Vietnamese gathered at the event, that the city's economy prospered last year and several urban projects were undertaken.
Its per capita GDP is now US$ 5,538.
The achievements were partly owed to Viet kieu, he said, adding that more and more remittances were coming to the city and growing at 8-10 percent annually.
Last year the amount was $5.5 billion.
"Overseas Vietnamese always have their heart in their home country. I deeply appreciate their contribution to the city's development."
Last year 40,000 of them passed through Tan Son Nhat Airport, with 200 of them returning to Viet Nam to live and work.
At the meeting, which was also attended by Vo Van Thuong, Politburo member and permanent deputy secretary of the city Party Committee, the city administration awarded merit certificates to 10 organisations and 11 individuals for making contributions to the city and country.