Crowded Vietnamese people gathered at Phu Tho province's Kinh Thien Temple on April 28 (the 10th day of the third lunar month) to offer incenses and pay tribute to the Hung Kings – the founders of Vietnam.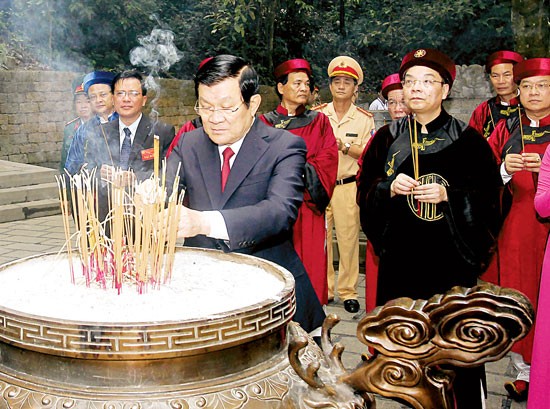 State President Truong Tan Sang offeres incense at the Thuong, Hung Temple in Phu Tho province. (Photo:SGGP)
Attending at the event were State President Truong Tan Sang, leaders of Party, State, representatives of ministries, departments and central agencies, leaders of Phu Tho province, Vietnamese ethnic groups of people and Vietnamese overseas.
By 7:30 am at Kinh Thien Temple, State President Truong Tan Sang and guest delegates offered incenses, flowers and fruits to express their deep gratitude to ancestors.
The guest delegations after that offered incense and laid down a wreath of flowers at the Hung Kings imperial tomb and Uncle Ho's Statue. And then, the delegation led by President Truong Tan Sang offered incense and commemorated contributions of Duc Quoc To Lac Long Quan at Sim Mountain.
On the same day, the Party Committee, People's Council, People's Committee, Fatherland and Front Committee of Ho Chi Minh City, and residents held a solemn Hung Kings anniversary ceremony at the HCMC Historical and Cultural Park in District 9 in the early morning.

Secretary of HCMC Party Committee Le Thanh Hai, Chairman of HCMC People's Committee Le Hoang Quan, Chairwoman of HCMC People's Council Nguyen Thi Quyet Tam, Chairwoman of HCMC Fatherland and Front Committee Vo Thi Dung, and veterans, patriotic personalities, youth members and people attended in the ceremony.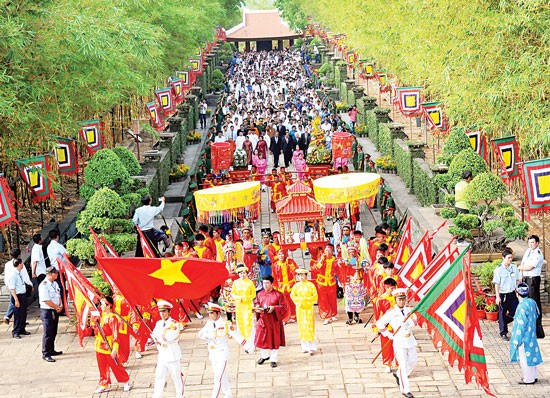 City's leaders and residents hold solemnly Hung Kings anniversary ceremony at the HCMC Historical and Cultural Park in District 9. (Photo:SGGP)