Around 700 people including foreigners have bought the commemorative banknote worth 100 dong after three days in April 22, 28 and 29 selling the banknote to commemorate its 65th anniversary, said Deputy Head of State Bank of Vietnam- Ho Chi Minh City Branch Le Thi Thanh Hang two days ago.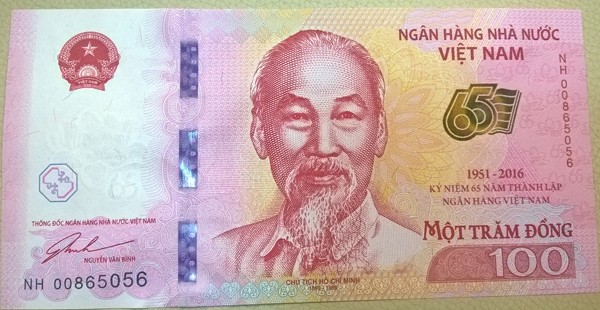 The commemorative banknote
During the first day, people had to queuing up but only 50 people could buy the banknote. In the second and third day, the state bank of Vietnam in HCMC decided to sell the note to 400 collectors and 650 people have bought it.

Individual and organizations had to register in advance and their names were listed in the bank branch. Each people is allowed to buy five banknotes and can buy one set of folder kind with cover and each organization is allowed to buy 50 note and five set for folder kind maximum.

Ms. Le Thi Thanh Hang said that as of April 29, the number of people registering for the banknote at the branch is 3,000, excluding organizations. The bank will sell the commemorative banknote in the morning of Thursday and Friday every week  from 8 AM to 11 AM at the branch until it sells out all distributed banknotes.