Viet Nam and the United States may go a long way in boosting closer ties by concluding the agreement on Ha Noi's WTO accession, according to Chairwoman of Viet Nam – US Trade Commission Virginia Foot.

Speaking before the talk on remaining issues on May 9, 2006, she said: "I am optimistic about the possibility to reach the final agreement this week, or maybe this month."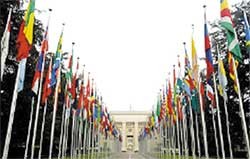 The road to WTO
An American trade official, who took part in the talk, said that the two sides' view-points were so close that the talk may conclude soon. "I think both sides know what to do, and if Viet Nam is ready to take action, nothing is impossible", she added.

However, another American official said: "We are still a little cautious, because I think that we had even spent much more time on talks with some other countries, and our interests in each talk may differ. Of course I want to finish the talk as soon as possible, but I do not want to achieve speed in exchange for results. So whether it lasts long or not, it depends".

According to this official, the talk will focus on remaining issues involving duty policies of car parts and cars, the import of Harley Davidson motors and industrial subsidies, especially textile and garment.