Vietnam and the Netherlands yesterday agreed to jointly draft a master plan for developing the Mekong Delta which faces threats of the climate change.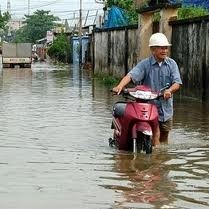 Vietnam is one of the five nations which is expected to hardest hit by climate change and rising sea levels.
A press conference to announce a cooperation plan between Vietnam and Netherlands to cope with the climate change in the Mekong Delta region was held in Hanoi on November 11.
At the press, Deputy Minister of Agriculture and Rural Development Dao Xuan Hop said Mekong Delta provinces and Ho Chi Minh City were suffering impacts of sea level rise due to climate related problems, which cause narrowing of agricultural land.
Mekong Delta region is the most threatened by the climate change in Vietnam, especially by sea level rise.
In addition, flooding, drought, disaster and salt marsh soil are happening complicated, threatening people lives and food security.
To prevent damages, from now to April, 2011, the Dutch Government will send environment experts to help Vietnam find out measures to deal with the climate change. Netherlands' experts will coordinate with Vietnam's experts to study measures, that help the Mekong Delta provinces to cope with climate related problems and sea level rise during next 50 years to 100 years.
All expenses for the plan will be donated by the Dutch Government.