The National Politics-Truth Publishing House has introduced a book dubbed "Viet Nam tren duong phat trien" (Vietnam on the development path) on the occasion of the 70th anniversary of the August Revolution and National Day.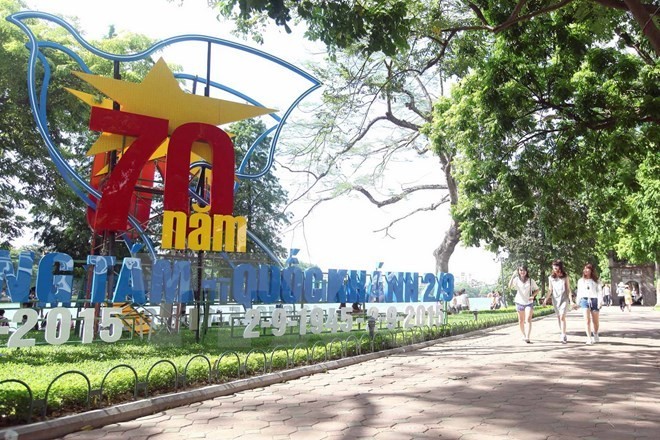 A Hanoi street ahead of the 70th National Day (September 2). Illustrative image. Photo:VNA
The book, with an introduction written by President Truong Tan Sang, reviews the nation's achievements over the past seven decades while highlighting orientations and the potential of the country's development.
It compiles articles by members of the Politburo, the Party Central Committee and leaders of the Party, State ministries and central agencies as well as prestigious scientists on various topics from politics, economy, security, external relations and defence to culture and society.
The book begins with an overall view of the nation, people, history and culture of Vietnam summarised by historian Phan Huy Le.
It then introduced the process of national defence and construction since the August Revolution in 1945 with a focus on outstanding attainments during the 30 years of reform in all fields.
In the concluding section, the book spotlights the country's potential and strengths significant to future growth.
The book is also one of the activities ahead of the 12th Party National Congress.