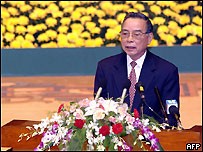 PM Phan Van Khai
The Prime Minister's successor is set to be elected by the National Assembly at an upcoming meeting.
In other top-level personnel reshuffles, the Government has already prepared a personnel plan for the ministries of National Defence, Foreign Affairs, Interior, Culture and Information and Transport.
The plan will be submitted to the NA meeting, which is expected to open on May 16, Quoc said. The Government has also asked the National As- sembly to relieve Dao Dinh Binh of his position as Minister of Transport, Quoc said.
Source: VNA