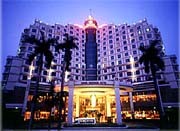 A new office is located at Horizon Hotel in Ha Noi
The Canadian Consular announced Friday it will open two new offices to receive Canadian entry visa files.

The offices, set to open Monday, will provide one-stop service handling any file for travel, study, work or residence in Canada.
The two offices are located at 162 Pasteur St, District 1, HCMC and at the Horizon Hotel, 40 Cat Linh St, Dong Da District, Ha Noi.