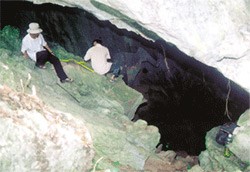 Scientists are continuing and map their discovery
Scientists from the Quang Tri Province Museum have discovered a beautiful cave by chance in the Con Rong area of the central coast province.
Located 65 meters up a cliff face, the entrance to the cave measures 11.5 by 4 meters and leads to stalactite-filled chambers as high as 20 meters in some places.
The scientists are continuing to explore and map their discovery, which they are calling "Bat Cave 2" for now.