At the tenth women's congress took place in Ha Noi on Tuesday, a new central committee of the Vietnam Women's Union for the term of 2007-2012 was elected.  Ms. Nguyen Thi Thanh Hoa, a Party Central Committee member and last term's vice chairperson of the Women's Union, was chosen as the new chairperson.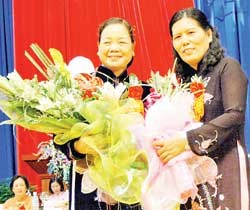 Ms. Nguyen Thi Thanh Hoa (R) receives flowers as a greeting from Ms. Ha Thi Khiet, the former chairperson of Vietnam Women's Union
After the congress, Ms. Hoa met with journalists to talk about her goals for the new position.
As a representative of Vietnamese women, she said that she will pay more attention to women's lives, especially those living in rural areas.  She will work to ensure that they are treated equally.
Moreover, she will try her best to help them expand their education and learn career skills in order to improve their roles in society.
In order to achieve this goal, every year the union will offer training courses for 50,000 women to learn a trade; the union will also help them to find suitable employment.
Due to a shortage of female officers during the last session, General Secretary Nong Duc Manh, together with union members, has outlined a plan to increase female participation within the union.   Ms. Hoa believes that this matter will be solved with a current plan to train a force of creative and professional young female officers from a pool of students and local women's unions.
When talking about her goals, Ms. Hoa said that there are still large numbers of women living in difficulty, and her heart goes out to those victims of the unequal treatment caused by some international marriages.  In her new position, she will try to lead the union to become a place of support for women of all social classes.