The Ministry of Information and Communication has appointed Bui Sy Hoa, deputy head of Broadcasting and Electronic Information Authority, as the new editor-in-chief of the online newspaper VietnamNet on April 1.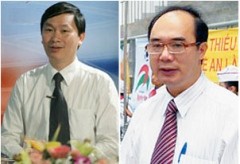 Bui Sy Hoa (R) replaces Nguyen Anh Tuan as Editor-in-Chief of VietnamNet.(Photo: Phap luat & Xa hoi)
The ministry has also accepted the resignation of Nguyen Anh Tuan on "personal reasons".
Mr. Hoa from Nghe An Province will have one month to orient himself with the workings of VietnamNet and will officially manage the e-newspaper from May 1.
The new editor-in-chief holds a bachelors degree in Philosophy from Hanoi University. He was editor-in-chief of Nghe An Newspaper before moving to the Broadcasting and Electronic Information Authority last August.
VietnamNet is one of the most popular online newspapers in Vietnam, ranked 11th in Vietnam and 1,334th in the world according to Alexa ranking.