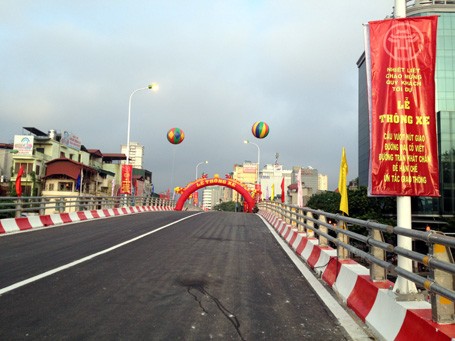 The flyover in Tran Khat Chan-Dai Co Viet intersection
Construction has just been completed on a major new flyover in downtown Hanoi after six months of work in an effort to help the capital city alleviate congestion woes, especially during rush hour.
Costing over 180 billion VND (about 8.5 million USD), the four-lane flyover at the Tran Khat Chan-Dai Co Viet intersection is over 350 metres long and 11 metres wide.
Speaking at the inauguration ceremony on August 30, Hanoi People's Committee Chairman Nguyen The Thao stressed that developing traffic infrastructure with projects such as this flyover is helping to clear the capital's busy roads.
According to the city's Department of Transport, the previous five flyovers in downtown Hanoi have proved highly and immediately successful.