Vietnam's naval forces have successfully fostered mainland plants, animals and a future generation on the uninhabitable Spratly Islands under conditions of pelting rain, chilling winds and scorching sun, with sheer will power and zeal.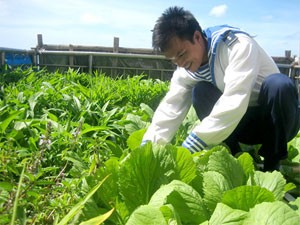 A naval soldier takes pride in his vegetable garden on Ladd Reef, Spratly Islands (Photo: sggp.org.vn)
The field research by former Saigon Geosciences Department of the Agriculture Research Institute in the Ministry of Rural Development revealed that the soil on Namyit Island of Spratly Islands was suitable for cultivating plants like coconut, longan and custard-apple.
Realistically though this was not possible due to the harsh weather conditions on the Island.
According to Colonel Cao Anh Dang, the problem was resolved with many ships bringing in rich fertile soil from the mainland to Spratly Islands. The soil once merged became highly cultivable for growing vegetables.
Colonel Bien Xuan Khuong, who has experienced Spratly Islands for 19 years, believes it is necessary to protect the rich soil from salination by seawater if people want to cultivate on the islands.
Plant cultivation is a great art on Spratly Islands, especially on the sinking islands. Soldiers living on floating islands can make use of canvas covering to protect their "mobile vegetable gardens" while those on sinking islands need to be extremely alert to sea waves.
Rough sea can cause sudden unexpected devastation and soldiers have to hurriedly move their mobile gardens to higher ground levels.
The purification method was proposed to rejuvenate the salt-affected soil. The soldiers' trial and error attempts finally led to a satisfactory result. On Sin Cowe Island, for example, more than 10 kinds of vegetables like cucumber, pumpkin and lots of fruit trees were grown with surprisingly good result.
On seeing naval soldiers work so hard on their plants with negligible amounts of freshwater, many felt strong affection and pride towards the soldiers.
Besides plants, domestic animals, like pigs, chickens, ducks and pet dogs also followed the naval soldiers to the Spratly Islands. Dogs brought the soldiers solace and helped them catch fish, mice and guard the islands.
Both plants and animals brought life to these deserted and uninhabitable islands.
A native generation of people also grew up on Spratly Islands. Two years ago, a group of young doctors from Army Central Hospital 108 undertook professional work on Southwest Cay. Despite their lack of experience in midwifery, these doctors still managed to prepare for childbirths on the cay.
They decided to rehearse for child delivery. Doctor Mai An Giang, the group leader, first contacted the Obstetrics Department of Army Central Hospital 108 for advice. All the best equipment was then gathered. A male physician was employed for the rehearsal and with determination the group was able to deal with every conceivable situation.
On May 16th, 2009, the first citizen, Ho Song Tan Minh was born on Southwest Cay, Spratly Islands. On April 4th, 2011, people on Spratly Islands welcomed another baby.
These babies and others in the future will be convincing evidence of miraculous births under harsh conditions on these remote islands.