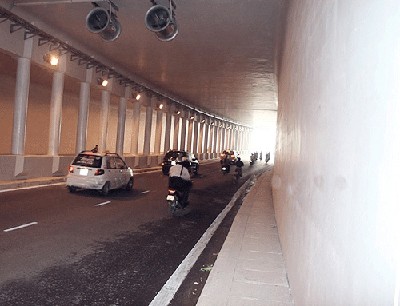 The Kim Lien tunnel in Hanoi.
The new Kim Lien underpass in Hanoi, which opened to traffic a month earlier, was found leaking on July 16.
A two-meter long, 10-centimeter wide leak between pillars 8 and 9 allows water to drop on passengers below.
The tunnel was under almost 40 centimeters of water following heavy rains just two hours after it opened to traffic on June 16.
These have raised questions about the quality of construction among the public.
Ngo Quy Tuan, deputy director of Ha Noi's Key Projects Management Board, told SGGP on the same day that while the leak would not affect the structure of the tunnel, it needs to be fixed soon.
The contractor has asked the consulting company to make a detailed report on the problem and measures to fix it, he added.
Though the tunnel has opened to traffic, it has not been handed over to the management board. The contractor and consulting company will continue to monitor the tunnel to fix the problems before the handover scheduled for the Hanoi Liberation Day on October 10.
The tunnel took more than VND467 billion (US$26 million) and three years to build.