A new helmet standard comes into force this weekend, but manufacturers, traders and consumers are worried about inconsistencies in the decision.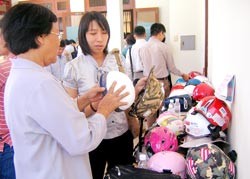 A consumer examines the "CR" sign labeled on a helmet
As of November 15, only helmets that are labeled with a "CR" sign are allowed to be in circulation in the market, according to Decision No.4 on National Standards for Helmets for Motorcyclists issued by the Ministry of Science and Technology.

The "CR" sign is a verification stamp to be issued by relevant authorities, indicating that the quality of the labeled helmet meets national certification standards on size, weight and hardness, and is safe for motorcyclists.

At present, all the local and foreign-made helmets in circulation are labeled with a "CS" sign indicating that their quality complies with standards set by manufacturers.

Vu Van Dien, deputy director of the Directorate for Standards and Quality (STAMEQ), announced that after the effective date, there will be a grace period for the process of standardizing safety labels on helmets.

All helmets bearing a "CS" sign will be withdrawn from circulation and those among them that meet national certification standards can have the "CR" label stuck over the "CS".

"It's really hard for us. How can we take back all the helmets produced in accordance with CS standards once they have already put into circulation?" A manager at the trading department of Phu Gia Hung Helmet Company, wanted to know.

Helmet manufacturers are worried in particular that no deadline for the standardization process has been mentioned in the decision. At present, among 51 helmet manufacturers that have applied for CR certification registration, only 14 have been granted the certificate and 15 others are expected to get the approval by November 15.

Manufacturers said that the absence of a time-limit can be a loophole that allows unscrupulous people to take back their bad-quality helmets, illegally label them CR stamps on them and then sell them out on the market again.

Consumers on the other hand are concerned about the decision granting permission for manufacturers to label helmets that have been manufactured in accordance with CS standards with CR signs before selling them on the market. They said that due to their lack for knowledge about technical and quality criteria, the verification stamp on a helmet is the only reliable "standard meter" they can apply in making a choice."

Le Dinh Tung, deputy director of the Center for Study and Consultation on Consumerism (CSCC), said that to protect consumers' interests, relevant authorities should verify the tests on quality of helmets in a transparent way before allowing the CR label.

To ease the consumers' worries, Truong Thuy Trang, deputy director of the HCMC Department of Science and Technology, reassured, "New certification standards are set to guarantee motorcyclists' safety. Under the new tighter standards, no manufacturer will be allowed to put into circulation helmets without certification."

"Any violation related to CR labelling will be charged and penalized appropriately," Trang said.