As the Landfill Site No.2 at Tay Bac Cu Chi Solid Waste Treatment Complex will stop receiving waste by end of this year, the Ho Chi Minh City Urban Environment Company has opened up Landfill Site No.3 recently.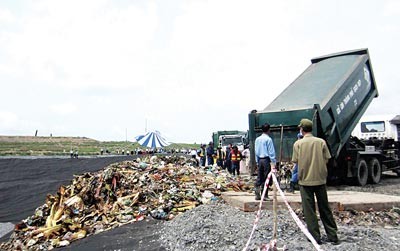 The first compartment of the Landfill Site No.3 receives first garbage trucks. (Photo: SGGP)
Landfill Site No.3 covers an area of 22.68 hectares and was set up with an investment cost of around VND976 billion. With capacity for 2,000-4,000 tons of waste per day and operating with KBEC technology of South Korea, the new site comprises of a liner system, ground water collection and conveyor facility, leachate collection and landfill gas collection facility, with total height of 35 meters for burial, of which 15 meters is underground.
The four-compartment landfill will be able to handle a total of 6.5 million tons of waste. Construction at the first compartment is complete and the other three will be finished by end of 2014.