On the occasion of National Day September 2, 183 convicts in An Phu Prison were granted special reprieves on Tuesday for making much progress in studying, working and improving their conduct and determination to change their lives to become useful citizens.

An Phu Prison in Phu Giao District, Binh Duong Province, has the largest number of convicts who have been released ahead of their terms in Southern provinces and cities to mark the National Day.

Getting out from the van taking newly released prisoners to their hometown in HCM City, Nguyen Thi Thanh Nhan, 34, felt thrilled with the new life that has been opened to her.

Just looking at Nhan in real life, not many people could believe that such a good-looking woman, with pinkish-white complexion and a slender figure, had been sentenced to 15 years imprisonment for trafficking drugs. She was now returning to a free life after spending ten years and three months in An Phu Prison.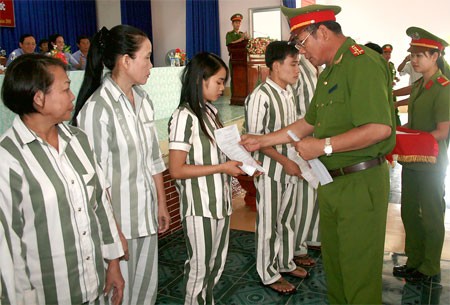 Colonel Ho Thanh Dinh gives amnesty decisions to convicts (Photo: SGGP)
Nhan said, "During my first days in jail, I thought that my life was over. After hearing encouragement from superintendents and fellow prisoners, I however regained my faith and decided to make a new start in life."

Not merely focusing on improving her behavior by complying with the prison's regulations, Nhan also tried to fulfill every task assigned to her as working helped her realize the true value of work. After a few months in jail, Nhan was allowed to join vocational classes and showed an aptitude for hair-styling.

Her efforts were recognized by the superintendents. Yet, when her name was called from the list of prisoners that were granted special reprieves on the occasion of National Day, Nhan could not believe her ears.

She said, "Not until I held the amnesty decision by the President did I believe that my endeavor had gained fruitful results after all, and that my dream of a new life began to come true."

She emphasized," The most important things now are the days ahead."

Phan Ngoc Trinh, 19, was sentenced to two years in prison for stealing.

Trinh said, "I have one brother and sister. They both are good students, but I, myself, was not interested in studying. I dropped out of school when I was a tenth-grader and became a vagabond."

One day, to get some money for some nightclub tickets, Trinh and her peers decided to snatch a handbag from an old lady. The action was unsuccessful and Trinh was arrested.

Trinh said, "The days spent in prison have taught me that freedom is something very sacred and that making money doesn't mean that you can snatch someone else's handbag and run away."

She added, "I really wish to start again from the beginning and I hope that the community will forgive me and give me a chance. Will they let bygones be bygones?"

She shared the concerns with 55 year old Phan Thi Dieu Huong, who was condemned to seven years imprisonment for drug trafficking.

Huong said, "I'm repentant for my wrongdoings and what I really want to do now is to live an honest life. I hope that I can get forgiveness and spiritual support from my family and neighbors instead of their indifference when I get home."

Abandoned by her family and relatives when she was arrested, Huong thought that she was on her beam-ends in jail because she has heart disease. But it was in the prison that she learned the lesson that happiness was to share.

Huong said, "The superintendents there used their own money to buy medicines for me. Knowing that no one would visit and gave me necessities, they from time to time gave me soaps, detergents and toothpaste. Their treatment warmed my heart. Although committing the crime, I thought that I was not a piece of rubbish to society, at least not to them."

Huong said that she will always remember what Colonel Ho Thanh Dinh, deputy director of Prison Management Department, told the convicts before they were released yesterday.

She quoted, "Being given amnesty is just the beginning of a good life. There are still a lot of difficulties and temptations waiting for you outside. But based on your endeavors during the time you've been here, I believe that you'll get through and successfully integrate into society after all."

Huong said in self-confidence, "Yes, we'll get through and fall in line with the new life."