Many provinces in the Mekong Delta have adopted a new model plan for larger paddy fields, to save costs and increase productivity, proving that the new model plan can rake in better profits than smaller fields.
The provinces introduced this new model plan in the last two summer-fall and winter-spring crops.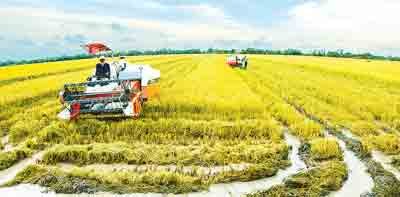 Farmers use combines on larger paddy fields in the Mekong delta (Photo: SGGP)
Field areas covering between 100 and 2,000 hectares have proved ideal, many of them lying west of An Giang province with 500 farmers working on a large paddy field area for the last winter-spring crop.
Production cost of one kilogram of rice on a 1,000 hectare paddy field decreased by 30 percent in An Giang province during the last season compared to the cost born by an individual farmer in a small field.
During the last summer-fall crop, 684 farmers joined in the plan and raised productivity by 6.1 tons per hectare, 200 kilograms more than that of an individual farmer working in a small field.
Since adopting the new model for the last two crops, farmer Nguyen Van Cuong from district Chau Thanh in the Mekong delta province of An Giang claimed that farmers had benefited from the switch to larger field farming with reduced production cost, more access to advanced technology and less fear of losing a crop.
Cuong added that when adopting this model, the An Giang Plant Protection Service Company, that has two export rice-processing plants in the Mekong Delta, provided seeds, fertilizers, pesticides and technology to farmers and a promise to buy back all their rice.
Meanwhile, 302 farmers working on a 300 hectare paddy field in the Mekong delta province of Tra Vinh also reported better-than-expected profits.
On his tour to view the larger scale paddy fields, Nguyen Huu Huan, deputy chief of the Department of Plant Protection, said the plan was a huge success.
Kien Ninh, chairman of the People's Committee in district Tieu Can of Tra Vinh Province, said income of farmers under the new model plan increased by 20 percent. This will greatly enhance the rural plan project laid by the government.
Realizing that the model plan has brought in much benefit, the region's 6,400 farmers agreed to join in on an 8,200 hectare paddy field area.
Dr. Pham van Du, deputy head of the Department of Crop Production, said the model has gained consensus amongst farmers, hence investors such as AGPPS, Binh Dien Fertilizer Joint Stock, Gentraco Corporation, a Member of Viet food Association, should now increase their investments to help the farmers.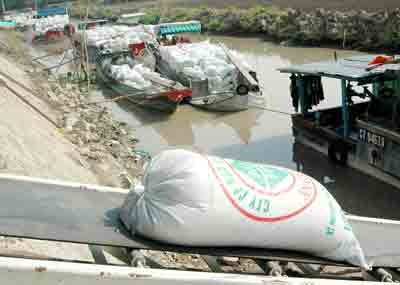 Enterprises buy back all rice from farmers (Photo: SGGP)
Experts however affirm that the quality of Vietnamese rice did not match the superior quality produced by Thailand, because Vietnamese farmers have so far only worked on small paddy fields without the use of advanced technology, losing around 13.7 percent of their harvest each year (equivalent to US635 million per year).
However, under the new model plan, the quality is expected to be vastly superior and also highly exportable.
According to Huynh Van Thon, general director of An Giang Plant Protection Service Company, price of Vietnamese rice will be raised because its quality has improved and the company will therefore purchase rice at a higher price from farmers.
The An Giang Plant Protection Service Company has now invested in four large-scale processing facilities and warehouses in district Thoai Son in An Giang province and district Tan Hong in Dong Thap province, at the heart of the Mekong Delta.
Presently the company already has a rice processing plant with a 500 ton per day capacity and a 35,000 ton storage capacity warehouse in district Chau Thanh in An Giang province.
The company also constructed one rice processing plant in district Vinh Hung in the Mekong delta province of Long An with a 1,000 ton per day capacity in September. Such facilities will greatly help farmers who are now so eager to adopt the new model plan of farming.
By 2012, the Mekong delta provinces plan to set up a 70,000 hectare paddy field area. The state government will provide support by investing in infrastructure, particularly the all important embankment construction and drainage system, said Dr. Pham Van Du, deputy head of the Department of Crop Production.