President Truong Tan Sang's freshly concluded tour of Tanzania, Mozambique and Iran is expected to create a new impulse to step up economic and trade ties between Vietnam and these countries, said Deputy Foreign Minister Vu Hong Nam.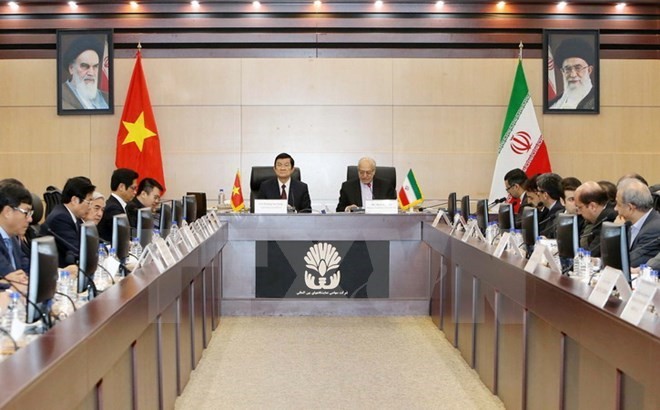 President Truong Tan Sang attends Vietnam-Iran Business Forum (Source: VNA)
The official told the press following the President's State visits to the countries from March 9-15 that bilateral trade between Vietnam and the African and Middle Eastern nations has remained modest, with 204 million USD recorded with Tanzania in 2015, 66 million USD with Mozambique and 107 million USD with Iran.
But these relationships hold substantial potential for increased cooperation, he said, stressing the need for a new leverage to awaken their potential and advance economic and trade links.
During the President's trip, businesses from the host countries extended their hopes to set up investment ties with Vietnam, according to Deputy FM Nam.
President Truong Tan Sang and foreign leaders reached consensus on priority areas of cooperation and fundamental measures to boost bilateral trade ties.
Accordingly, trade between Vietnam and Tanzania is expected to hit 1 billion USD in 2020; Mozambique, 500 million USD; and Iran, 2 billion USD.
Vietnam will mainly ship rice, farm produce, seafood, clothing and footwear to Tanzania, Mozambique and Iran, while importing cashews, animal feed, cotton, waste iron, steel, timber products, fertilisers, plastic materials and machinery from them.
The Vietnam-Mozambique Inter-governmental Committee is expected to have its fourth meeting in Maputo in 2016. The ninth Vietnam-Iran Inter-governmental Committee will meet in Tehran and the second Vietnam-Tanzania Inter-governmental Committee will meet in Dar Es Salaam.
The leaders also agreed to continue their mutual support at international forums.
The foreign countries said they backed Vietnam's bid to secure a non-permanent seat in the UN Security Council for 2020-2021 and join the International Law Commission for 2017-2021.
The leaders took a look at regional and global issues, and affirmed their resolve to cooperate with each other in handling global matters regarding peace, stability and development such as terrorism, non-traditional security issues and climate change.
Mentioning the East Sea situation, the foreign countries showed their strong support for Vietnam's views to address the disputes and conflicts by peaceful measures on the basis of international law and regulations stipulated in the UN Charter, including the 1982 UN Convention on the Law of the Sea.
Deputy FM Nam noted that the tour resulted in the signing of a range of important cooperation agreements in education, banking, oil and gas.
Three business forums were held as part of President Truong Tan Sang's trip, attracting the participation of local businesses. The forums created opportunities for the two sides' enterprises to exchange information and seek out partners, Nam said.
The visits have affirmed the Vietnamese Party's and State's guidelines of continuing to consolidate and deepen ties while expanding foreign relations of multilateralisation and diversification.
The trip's success will serve as a firm foundation to elevate relations between Vietnam and Tanzania, Mozambique and Iran to a new height, he said.