Bui Ba Bong, deputy minister of Agriculture and Rural Development, chaired a meeting in An Giang Province on Tuesday to gather opinion from leaders in the Mekong Delta provinces on how to regulate annual stockpiling of rice.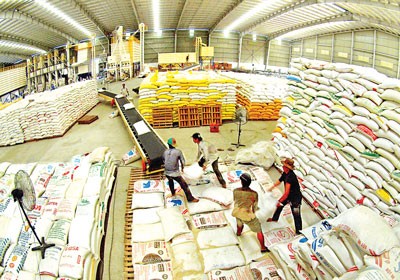 Rice being stockpiled at a warehouse in the Mekong Delta (Photo: SGGP)
According to the Ministry of Agriculture and Rural Development, for the last several years, rice prices have always fallen during peak harvest time, affecting the income and livelihoods of rice farmers.
As a result, the Government tasked the Vietnam Food Association to purchase rice for stockpiling. However, the purchasing method has shown limitations as businesses have mainly bought husked rice from traders instead of unhusked rice from farmers. Hence, farmers have not enjoyed any benefits from the Government's stockpiling policy.
On the other hand, most of the smaller farmers are selling their unhusked rice to traders before the Government can buy up for stockpiling. The increase in rice price has profited traders and businesses not rice growers.
 
The ministry had proposed stockpiling a maximum of one million tons of rice from every winter-spring crop and 1.5 million tons from every summer-autumn crop.
Two methods to stockpile rice have been proposed. One is that farmers and cooperatives store rice in their homes. The other is to stockpile rice in warehouses owned by businesses.
The Government will assist households and businesses with 100 percent bank interest to store rice for a maximum period of three months.
Leaders in provinces with a larger rice output like Kien Giang, An Giang, Long An, Dong Thap and Can Tho City have agreed to the rice stockpiling norms set by the provincial people's committees.