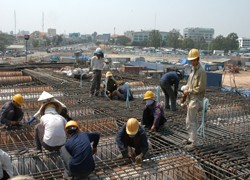 Overpass contruction site
The overpass, leading to the airport terminals, is one of the most important construction items of the airport.
The 428-meter long and around 25-meter wide overpass is built with modern technology of international standards. The bridge of 16 spans and 34 piles costs around VND60 billion.
It is being constructed by the Civil Engineering Construction Corp. No. 6 (CIENCO 6).
The new airport is planned to open by the end of September 2006, meeting international standards, with 10 luggage conveyor belts, eight sky bridges, 20 escalators, 18 elevators, flight information boards and security equipment.