Nguyen Ba Thanh, Party Secretary in the central city of Da Nang, recently suggested that the city offer an added incentive to traffic policemen who have to work under the hot sun all day, which may also discourage them from taking any bribes.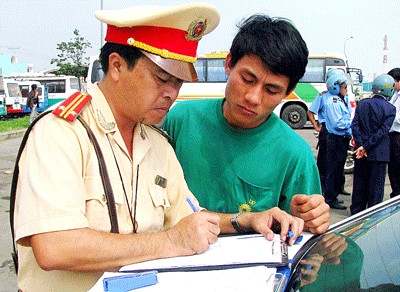 A police officer in Da Nang City fines a car driver for traffic violation (Photo: SGGP)
Under this new incentive plan, each traffic policeman will receive an extra VND5 million (around US$240) from the city budget. However, the catch is that he cannot accept a bribe, and if caught red handed, will be sacked.
In order to further improve traffic conditions in Vietnam, Secretary Thanh suggested the installation of CCTV cameras to monitor load capacity of trucks running on roads to ensure that they are within legal limits. 
Another safety measure suggested by Secretary Thanh was to frequently transfer traffic wardens to different stations as a preventative measure against the problem of bribery, mainly among traffic policemen and wardens, who resort to bribe-taking if posted at the same station for a long period of time.
Colonel Nguyen Dinh Chinh, deputy chief of the City Police Station, was of the opinion that upright policemen should be rewarded so as to acknowledge their integrity. For years, the policemen only receive a mild punishment if residents complain of bribery; hence good behaviour should be rewarded, to discourage bribe-taking.
However, some people said that this practice would be unfair to policemen from other departments such as criminal investigation, forest and market management.
Lawyer Do Phao doubted that offering incentive money would curb 'the bribery epidemic problem' among traffic policemen and wardens, because taking or not taking money depends on a person's character and his will.