Three new projects worth US$1 million will be implemented in the central city of Da Nang to help disabled people access health services and gain skills to find jobs.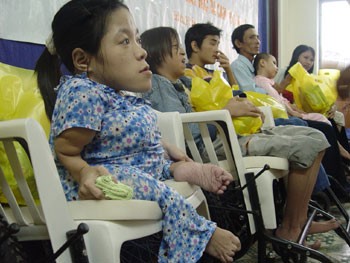 Disabled residents in Da Nang benefit from the project
Funded by the U.S. Agency for International Development (USAID), the projects will be implemented by the East Meets West Foundation (EMW), Save the Children, and Vietnam Assistance for the Handicapped (VNAH).
 
The VNAH will connect an urban rehabilitation center with four district health centers in the Da Nang area to provide quality services and education in rehabilitative medicine.  The American Rehabilitation Center at Binh Dan hospital, funded by USAID, will be equipped and refurbished to support the other districts. 
VNAH will help people with disabilities and their families improve their social and economic status and integration, and help local authorities, health service providers, and disabled organizations develop programs to increase resources for disability.
 
The second project will have Save the Children USA work with the Da Nang Department of Labor, Invalids and Social Affairs and Inclusive Development Action to expand employment and income generation opportunities for people with disabilities and their households by promoting formal sector employment and self-employment for people with disabilities.
Under the third project, EMW will work to improve the quality of life for persons living with disabilities in Da Nang province, particularly children with disabilities.  Key activities will include medical and social screening for people with disabilities, corrective surgery, physical therapy and rehabilitation services, scholarships for children with disabilities, and community-based rehabilitation.
 
This assistance package for disabled persons is part of US$3 million appropriated by the U.S. Congress for Vietnam.  The remaining US$2 million will be used for dioxin mitigation efforts in the Da Nang area.