Four new reptiles have recently been found in the Biosphere Reserve of Kien Giang, a province in the Mekong Delta of Southern Vietnam.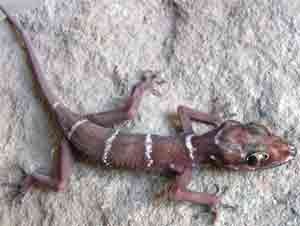 The Cyrtodactylus, a new spieces of gecko found in Kien Giang Biosphere Reserve
Three new species of gecko were identified as belonging to the genus Cnemaspis and Cyrtodactylus and the new species of venomous snake found was of the genus Viperidae.

Professor L. Lee Grismer from La Sierra University in the US and researcher Ngo Van Tri from Vietnam's Institute of tropical Biology discovered the new species together. Their findings have been published in Herpetologica, an international journal on the biology of amphibians and reptiles.

Local zoologists also found a new species of plant, Ornithoboea emarginata D.J. Middleton & N.S., that grows on mountain walls and limestone mountain creeks.