Farmers in My Thanh Co-operative of Cai Lay District in Tien Giang Province in the Mekong Delta have produced a new variety of rice called cam rice.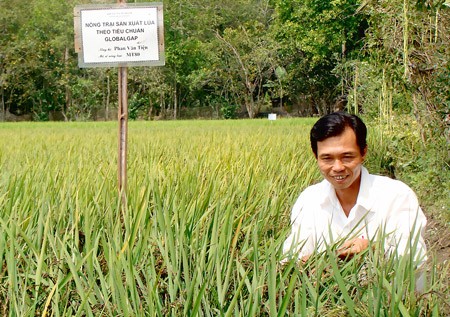 A farmer in his cam rice field in Cai Lay District of Tien Giang Province (Photo: SGGP)
Doctor Le Huu Hai, head of the Department of Agriculture and Rural Development in Cai Lay District, who introduced the new rice variety to the district said that farmers had named the cam rice as than rice (black rice) because the rice husk was a dark violet color and the grain was brown, resembling black sticky rice.
The department is in the process of registering the brand name of the rice as Lua cam Cai Lay (Cai Lay cam rice).
The Cai Lay cam rice is a fast growing variety with a high output, about 4-6 tons per hectare and a high disease resistance. The grains are long oval shaped, soft and sticky and have 9-10 percent proteins and other nutrients like vitamins.
The ADB Ltd Company has already placed an order for the entire 39 hectares of Cai Lay cam rice cultivated at My Thanh Cooperative. The company representative, Phan Quoc Hung said that ADB would assist farmers to increase the production area for the cam rice.
Truong Van Bay, chairman of the My Thanh Cooperative said that a lot of farmers had come forward to register for cultivation of the new rice variety. However, the cooperative as yet does not have enough seeds for all of them.