Experts have found the draft circular for a government decree on collection of new road toll fees to be most impractical and have asked for its postponement from scheduled date in January next year.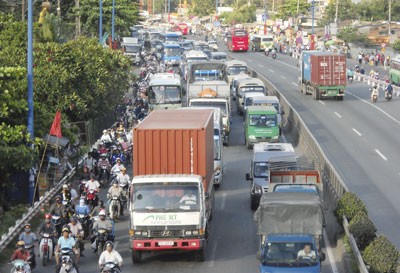 Transport businesses want road toll fee adjusted for semi-trailer trucks (Photo: SGGP)
The Ministry of Finance has sought popular opinion for a Government Decree on collection, management and usage of road toll fees on automobiles and motorbikes.
Lawyer Thai Van Chung, Secretary General of the HCMC Cargo Transport Association, said that the draft circular for the government decree makes little commonsense.
According to the draft circular, the road toll fee or road maintenance fee will be collected annually at the time of periodic registration of a vehicle. This regulation makes it a fixed fee for transport businesses, irrespective if their trucks travel less or more. Even trucks that do not ply or are temporarily stationed will have to pay the road toll fee.
As it is, transport businesses already have to pay a number of regulated fees like vehicle insurance, social, health and unemployment insurance and registration fee.
Mr. Chung said that the road toll fee should be made more flexible.  If trucks ply on the road, they should pay the toll fee, depending on the frequency of trips travelled.
Another nonensical aspect of the new toll fee will be that both tractor and trolley will be charged separately, with the fee for the trolley being double that of the tractor.  This makes little sense as the trolley cannot operate without the tractor. This applies to semi-trailer trucks as well, which ply as one unit.
On the other hand, it is also unfair to ask vehicle owners to pay road toll fee at the time of registration, which means that businesses will have to pay the toll fee in advance, before they even know how much they will use the roads.
Vietnam Chamber of Commerce and Industry has said that the road toll fee rates for automobiles are far too high, which will cause a heavy financial burden on transport companies who will have to pay tens of billions of dong every year.
This will force them to increase their service rates, which will then directly affect consumers and might reduce consumption demand.
Vietnam Chamber of Commerce and Industry has now asked for postponement to the implementation of the road toll fee at such a time when the economic crisis is weighing down heavily on businesses.