Within just 3 years since implementation of the Government's New Rural Development Plan to upgrade agricultural techniques, improve farmers' lives and develop rural infrastructure in the Mekong Delta Provinces, positive results are there for all to see.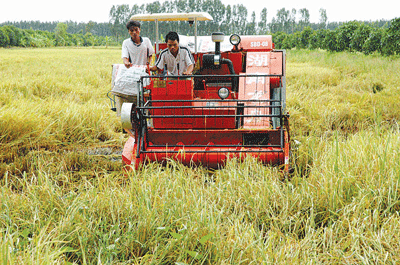 Farmers harvesting rice in the Mekong Delta province of An Giang ( Photo: SGGP)
The Rural Development Plan targets modernization of agricultural techniques so as to raise higher yield and improve production quality.
Better infrastructure has brought about more spacious housing plans and new tarmac roads replacing dilapidated houses and mud roads in the provinces of the Mekong Delta.
Villages have been illuminated by   neon lights, and bear a more cheerful look. Moreover, farmers' incomes have risen substantially, thanks to advanced production methodologies.
It is just the first day of Tet Lunar New Year and farmer Vo Hong Ngoan in Vinh Trach Dong Village in Bac Lieu Town in the Mekong delta province of Bac Lieu has gone to his shrimp breeding farm to water his new crop.
Farmer Ngoan says that as water is very fresh on the first seven days of the New Year, he must water his stock before he attends to any other business.
Thanks to his conscientious persistence, Ngoan is one of the most successful shrimp breeders of the region. In 2011, he bred shrimp on 15 hectares of land, selling at VND220,000 – VND240,000 a kilogram, earning over VND6 billion and profiting by over VND3 million (US$143,884). He believes that adopting the right policies along with hard work are the secret of his success.
Since the Rural Development Plan was implemented, it has provided electricity to the villagers, helped farmers save breeding costs and improved the living conditions of all.
Truong Van Thang in Bien Bach Dong Village of Thoi Binh District in Ca Mau Province, expressed his gratitude to the Rural Development Plan that has built irrigation systems, and his family has switched to breeding shrimps, netting VND300 million – VND500 million annually.
The People's Committee of Tan Hong District in the Mekong delta province of Dong Thap, said thousands of residents in Tan Ho Co Village at the border crossing, are dependent on rice cultivation. However, as the village lies at the riverhead, it is usually hit by storms and can produce only two crops each year.
Thanks to the support of the government, the village now has constructed an irrigation system, with villagers cultivating 3 crops a year over 2,300 hectares of land.
To further the work of the Rural Development Plan and to meet its intended targets, the government will increase its budget and also call for contributions from all sectors of society. The government will also encourage the application of more advanced and hi-tech technology in agriculture to increase production and profits.