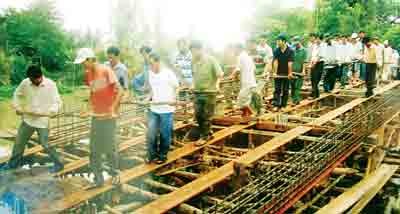 Residents in Vinh Phu Commune, Thoai Son District, An Giang Province join hands to build a bridge in their village (Photo: SGGP)
The government project to develop new rural areas has clearly been a success as several areas of the Mekong delta region are showing visible signs of growth, development and prosperity.
People are on the go in My Khanh Commune of Phong Dien District in the Mekong Delta City of Can Tho where roads, bridges, medical centers and houses are now being constructed.
Lam Van Doi is proud of his new house, built with a VND9 million (US$428) loan at low interest rates. Doi said that he was grateful that now his family was not living below the poverty level and were far more secure.
Thanks to an initial loan amount, he planted 90 star apple trees that earned him a profit of VND5 million and his children can receive stable jobs after graduation.
Le Ba Phuoc, district party committee secretary, said that after 11 months of implementation of the new rural development program,  My Khanh Commune will be the first in Can Tho City to be recognized as having met 19 of the standard criteria required in the program.
 
Farmers here are also becoming more prosperous and willing to donate land for construction of roads, medical centers and irrigation systems.

A model plan to cultivate large-scale areas for rice in the Mekong delta has been a success (Photo: SGGP)
Farmers net more money now thanks to implementation of a large-scale rice cultivation model in the Mekong delta provinces. Farmer Nguyen Van Cuong, from Chau Thanh District in An Giang Province, said he saved VND3 million on a hectare per crop after he adopted the model and learnt much more about hi-tech methods in agriculture.
Kien Ninh, Chairperson of Phu Can Commune in Tra Vinh Province said farmers' earnings had increased by 20-30 percent by adopted the new model plan. Farmers have now doubled cultivation by 20,000 hectare for the winter-spring crop compared to previous years.
Enterprises have provided nearly VND10 billion to build educational facilities, bridges, medical centers and cultural houses in communes in Can Tho City. An Giang Province needs VND3 billion more for completing infrastructure facilities such as roads etc. and the province is calling for more investments.