Vietnamese Deputy Prime Minister Nguyen Sinh Hung promised government will impose progressive taxes on housing speculation to help deflate an impending bubble in the real estate market.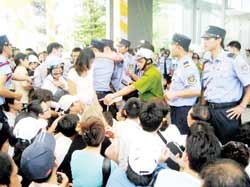 Thousands surrounded a housing site last week to purchase flats in CapitaLand's Vista complex in District 2, HCMC.
The more real estate a person possesses, the more tax will be paid.
"You can still speculate but government policies will adapt accordingly", Mr. Hung said.
New regulations will also require all housing project developers to publicize sufficient information for consumers to avoid being duped by speculators engaging in arbitrage, i.e., taking advantage of consumers' lack of information on expected price changes.
In a recent report to government, the Ministry of Construction attributed rising prices to excess demand for land caused by bureaucratic bottlenecks and inefficient regulations governing land allocation.
Businesses have complained it takes several years just to obtain a license and cumbersome procedures are delaying housing projects beyond their planned deadlines.
Yet the key factor motivating speculation remains quick profits caused by lax government regulations not stipulating clear time frames for property projects' implementation, noted the report.
Speculators are able to grab land as it comes on market and merely let it sit idle till someone offers them a lucrative price. Neither regulations nor market forces impel them to either develop the land or turn it over more quickly, said National Assembly Finance and Budget Committee Vice Chairman Le Quoc Dung.
Effective regulations are thus needed to compel investors committing to housing projects to stick their development proposals' timelines or pay punitive taxes.
Ho Chi Minh City recently saw disturbing degrees of speculation-based property sales ominous of a bubbling market when thousands surrounded a housing site last week to purchase flats in CapitaLand's Vista complex in District 2, even before foundations had been laid.
Prospective buyers hired proxies to wait in long winding lines for registration applications, with at least one person paid some US$1,000 simply stand in line.
Several days later, thousands thronged around the Indovina Bank in District 1 to transfer "goodwill deposits" to Phu My Hung Corporation for which they would be included in a lottery to select the fortunate few to become eligible to buy the corporation's highly-sought, ultra-profitable apartments.
A man waiting to transfer money at the scene told Sai Gon Giai Phong he had already bought one flat at $300,000 and was already receiving bids of some $2 million for it.