The Southern Airports Corporation (SAC) inaugurated a new terminal at the Lien Khuong airport in the Central Highlands province of Lam Dong on December 26.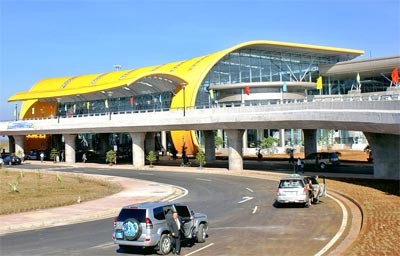 The façade of the new terminal at the Lien Khuong airport on the opening day December 26 (Photo: SGGP)
The two-floor terminal, which measures 12,400 square meters and cost VND280 billion, will enable the Lien Khuong airport to serve international flights to northeast and other Southeast Asian nations in 2010.
The terminal is capable of receiving 1.5-2 million passengers per year.
According to plans, irregular international flights will be available in 2010-2015, and regular ones will be opened in 2015-2020.
Addressing the inauguration ceremony, Deputy Prime Minister Hoang Trung Hai highlighted SAC's efforts to design and build the terminal.
He said putting the terminal into operation will help Lien Khuong airport open more direct air routes from Lam Dong and the Central Highlands to other regions in the country and the world, and thus facilitate socioeconomic development of not only Lam Dong and the Central Highlands but also the whole country.
On the same day, the first direct flight from Taipei to the central city of Da Nang carrying 150 passengers landed at the Da Nang airport.
Taiwan (China)-based TransAsia Airways became the second foreign carrier to operate direct flights to Da Nang after Singapore's Silk Air. It will run two flights on Wednesday and Saturday each week.
Also in December, Da Nang will receive more direct flights from Osaka, Japan, and China's Hong Kong.