Sending an SMS message to the Saigon Railroad Station (SRS) to receive a queuing number is viewed by station management as an innovative approach to conveniently purchase tickets for the Tet holidays. Questions over costs and delays have been raised.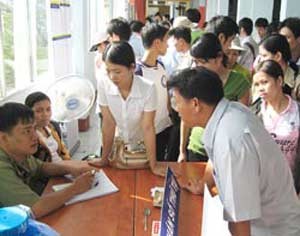 Some customers ask the station board why they have not received any queuing number after sending messages to the terminal (Photo: SGGP)
A customer wishing to buy a ticket needs to simply send an SMS, "GASG", who will then receive a message giving a queue number and an estimated time for purchasing tickets. Sending a text message will cost VND3,000.  
Managers of SRS explained that the new ticket system is an effective measure to not only help prevent ticket touting but also help reduce customer's queuing time.   
Nguyen Thi Thu Nga, a university student, said that she got up at 4:30 a.m. to send the message and received a reply that she can go to the station at 7:00 a.m. 
Nga said, "After receiving the queue number, I had to wait for nearly two hours for my turn to get a train ticket. Unfortunately, the ticket clerk announced that all tickets had been sold when I approached her counter." 
The ticket clerk explained that a number of tickets were intended to be sold to customers with queue numbers, but there were customers who bought two or three tickets at the same time, one for themselves and others for their relatives.   
Nga, however, was lucky to even receive an SMS reply.  Hundreds of others have complained that they have not received any reply from the station but have had to still incur the message charges.  
Mr. Luong Van T, a resident of District 11, said that to get a queue number, his son had sent 100 messages to the terminal two days in a row in vain. Although he didn't receive any reply, he lost VND300,000 which was deducted from his cell phone account.  
Mr. Ngo Chi Duc, director of La Bon Canh Co. which runs the ticketing service on behalf of SRS, insists that the service has replied to all messages. Messages sent by customers that did not receive a reply, he said, must have suffered a network failure and thus telecommunications companies must refund the charges to their customers.  
Will the telecommunications companies refund the charges to customers? No one can say at this time.  
The problem is that SRS said that the new ticket buying procedure is an effective solution to help prevent ticket touts selling tickets to customers at inflated black market prices. Reality, however, shows that the system is not working as well as expected. 
There are now 20 touts doing their business at the station. They use different cell phones to send their messages to receive numerous queue numbers and then persuade desperate customers to let them buy tickets for them on their behalf. If a customer agrees, he has to pay the middleman double for a ticket.  
To many customers who have used the service, the system is proving to be a waste of time and money.