Both the traffic toll fee for motorcycles and automobiles and peak hour fee on automobiles plying within city limits are aimed at easing traffic congestion and constraining use of private-owned vehicles, explained the Ministry of Transport on Wednesday.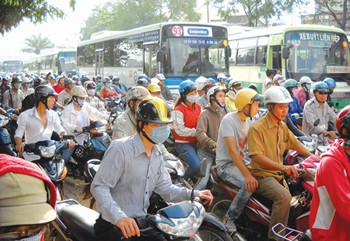 The Transport Ministry proposes to implement two new toll fees to put constrain on private-owned vehicles, partially to blame for much of the city congestion (Photo: SGGP)
The ministry was justifying its decision to implement two new traffic fees after the public protested against such proposals, saying they both overlapped and also created a financial burden on residents.
According to the ministry, at the second session of the 13th National Assembly (NA), the government explained the various causes of traffic jams and road accidents, which are partly caused by an increase in private-owned vehicles.
As a result, the Government proposed some measures like the traffic toll fee and peak hour fee, which received agreement from the NA Standing Committee.
Deputy Prime Minister Nguyen Xuan Phuc then tasked relevant ministries and departments to offer specific proposals on these two fees so that they could be implemented without delay.
Both the two new fees are aimed to gradually limit private-owned vehicles and ease traffic jams during peak hours, the Transport Ministry said.
The proposal will initially create a considerable income of VND15.24 trillion (US$725 million), which will go into projects concerning traffic and road safety.
Once the NA Standing Committee officially approves of the two traffic toll fees, there will be no further delay in implementation, the ministry added.