President of the Vietnam Fatherland Front (VFF) Nguyen Thien Nhan was rejoiced at seeing the latest changes in Tan Lap Village in the former revolutionary base in the northern mountainous province of Tuyen Quang as a result of the VFF's "All people unite to build cultural lifestyle in residential communes" campaign.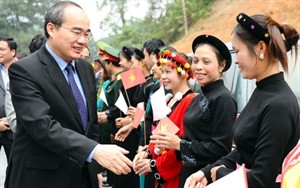 (Photo: vov.vn)
The VFF leader visited the village on November 16 to attend the local National Great Solidarity Festival, which is held annually across the country on the occasion of the VFF's founding anniversary.
He praised the local residents for their mutual support to improve living standards and reduce poverty. Together with State support, villagers have helped build permanent houses for 80 local families since 2010, which means no one of the 182 families in the village had to live in slums. The number of households living under the poverty line has reduced to only 8 this year from 63 in 2011.
The VFF president suggested that the village set up a support fund to encourage their children in study.
T he former revolutionary base of Tan Trao in Tuyen Quang's Son Duong district was dubbed the capital of Vietnam's revolution in the anti-French resistance war.
Tan Lap Village at the heart of the base is home to several relics, including the Na Lua hut where President Ho Chi Minh lived from May to August 1945. It is from this simple jungle hut that he instructed preparations nationwide for the August Revolution, the success of which led to the birth of the Democratic Republic of Vietnam on September 2, 1945.
There is also the Tan Trao communal house, where a national congress was convened on August 18 and 19. The congress adopted an order to launch the general uprising and the 10 big policies of the Viet Minh, as well as elected a provisional government led by Ho Chi Minh.