Two Vietnamese marine vessels came to DK 1 Frame Houses namely Huyen Tran , Que Duong, Ba Ke, Phuc Nguyen , Tu Chinh , Ca Mau and radar station 590 in Ba Ria- Vung Tau province's Con Dao district to carry New Year's presents to residents on January 2.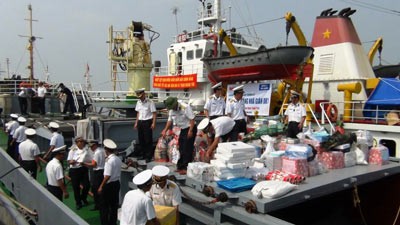 New Year's presents are transported to residents in DK1 Frame Houses (Photo: SGGP)
Accordingly, two Vietnamese marine vessels include HQ - 608 and HQ – 953 marine vessel of the High Command of Navy Region 2.
Lieutenant Nguyen Quyet Tien, a captain of HQ – 608 marine vessel, said that New Year's gifts will be transported to people in DK1 frame houses base on two weather conditions, including the presents will be carried  by motorboat if sea does not rough, by the other hands, gifts will be pulled by rope if sea roughs and wind blows strong.
'Despite the bad or good weather conditional, the New Year's presents also will be transported to residents in DK1 Frame Houses' he added.
Expectedly, two marine vessels will return to mainland before January 20.
In the related new, on the same day, Mr. Nguyen Thiep, Vietnamese Ambassador to the Republic of Austria donated EUR 1,000 for campaign 'For students in Spratly Island'. He considered this is a meaningful campaign to arouse the spirit of protecting the sovereignty of the islands as well as taking care for future generations.
The money funded by Vietnamese community in Austria with the aim to build schools at Sinh Ton Islands in Spratly Island.
Vietnamese ambassador added 'the donation is considered as good gesture of Vietnamese community in Austria for sea Islands'.