Ship HMNZS TE MANA of New Zealand 's Navy with 27 officers and 148 sailors aboard arrived in Ho Chi Minh City on June 27, beginning a five-day visit to the locality.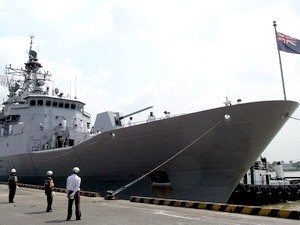 Ship HMNZS TE MANA of New Zealand 's Navy docked at Sai Gon Port (Source: VNA)
During the visit, the New Zealand officers and sailors will pay courtesy visits to the leaders of the municipal People's Committee, the High Command of Military Zone No. 7 and the High Command of the naval force in the city.
They will also play volleyball with a team from the Navy Technical School and visit sightseeing places in Ho Chi Minh City .
This is the fourth visit by the New Zealand naval ship to Vietnam, which is expected to contribute to promoting friendly ties between Vietnam and New Zealand in general and the two nations' armies in particular.