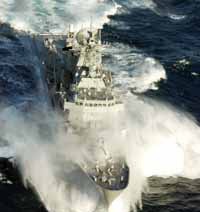 HMNZS Te Kaha on duty (Source: Royal New Zealand Navy)
HMNZS Te Kaha and HMNZS Endeavour of the Royal New Zealand Navy are returning to Ho Chi Minh City after a few years' absence and should begin their five-day visit on Saturday.
The visit is a significant demonstration of the growing defense relationship between New Zealand and Viet Nam, New Zealand Ambassador-Designate James Kember says in a press release from his embassy in Ha Noi.
The destroyer Te Kaha, now commanded by Andrew Grant, visited Ho Chi Minh City in 2002, and the supply ship Endeavour, now under James Routledge, in 2004. Grant and Routledge will meet with the city's leaders on Tuesday.
The Te Kaha's standard displacement is 3,600 tons while the Endeavour's is 7,300 tons empty and 12,300 tons laden.
The Te Kaha, measuring 118 meters in length and 14.8 meters abeam and with a crew of 175, is the first of New Zealand's ANZAC class frigates. She was launched in Melbourne in July 1995 and commissioned in Auckland two years later. The name Te Kaha is Maori and means 'fighting prowess' or 'strength'. 
The Endeavor, 138 meters in length and 18.4 meters across and with a 49-strong crew, carries supplies and fuel for New Zealand, Commonwealth and allied surface units. She was commissioned in the Republic of Korea in April 1988.
James Kember will present his credentials to President Nguyen Minh Triet on August 28.